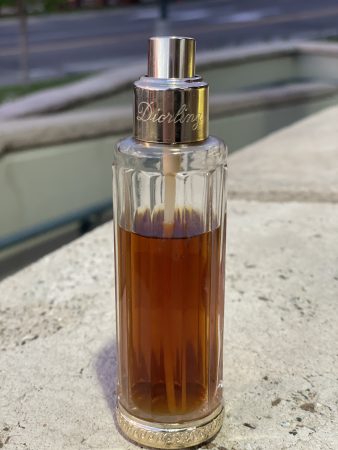 Vintage Christian Dior Diorling  photo courtesy of Jena Menard©
If you read ÇaFleureBon regularly, it's likely that you are aware of my immense fondness for chypres in general – and leathery ones in particular. There's something irresistible about tanned skins infused with fruits, flowers, spices and moss which delight me no end. According to perfume icon and overall gentilhomme Michael Edwards, author of multiple volumes entitled Fragrances of the World and Perfume Legends II, this genre goes by several names: dry woods, chypre boisé, leather and chypre cuir. Whatever you choose call them, your nose will recognize them immediately. Here are but a few I've reviewed over the years – Cabochard de Grès, Caron Tabac Blond, vintage Balmain Jolie Madame, Santa Maria Novella Peau d'Espagne, Roja Parfums Fetish Pour Homme, Perfumology Clutch, Eau D'Italie Jasmine Leather, Hiram Green Hyde, Atelier Materi Cuir d'Iris, Parfums de Nicolaï Baïkal Leather Intense, Memo Paris Oriental Leather, and Strada Parfumerie Avenue Montaigne (I fully intend to review vintage Miss Balmain as well as original Lanvin Rumeur and Hermès Doblis in the near future.).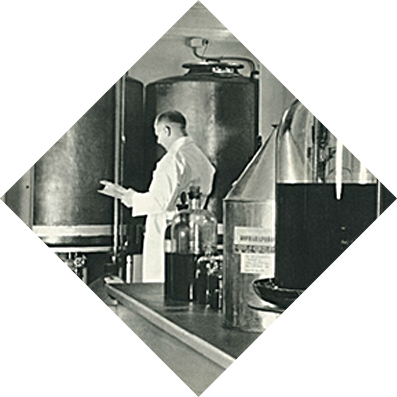 image courtesy of Le Galion
A long time ago I fell in love with master perfumer Paul Vacher's exquisite Christian Dior Diorling, purchased a few drops and then misplaced them during our epic move almost three years ago; I'm still beside myself. Fortunately for me, Jana Menard of Fragrance Vault kindly sent me a sample to replace mine!!! As a result, I'm aflame to initiate you into my suave leather madness (if you're not a fan already).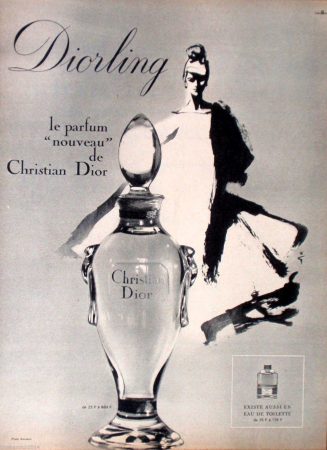 Rene Gruau for Diorling
Vintage Christian Dior Diorling is a smooth operator in every wise. If you seek rough, raw hides that verge on a beautiful brutality, this parfum isn't going to tick those boxes for you. If you crave the secret seduction of suavity, insinuated entanglements disguised as courtesy and refinement, then you may have caved for a fragrant unicorn. I certainly did. The pre-reformulation receipt is a luxurious floral leather chypre which commences with just enough bergamot and bigarade to entice. The ensuing floral bouquet is a perfectly-blended millefiori fragrance which embraces the indolic ripeness of hyacinth, full-bodied jasmine, the coolness of iris which offsets rose's warmth, and a tender muguet note. Nasturtium contributes a fresh verdant floral facet spiked with pepper; it puts a little tooth in the fragrance and is a real pleasure (perhaps similar to the lovely bite that marigold – aka tagetes – does when utilized in perfumery). Diorling's base comprises the classical chypre structure of its time: vetiver, musk, patchouli, oakmoss and an urbane leather note (which smells to me of labdanum, as opposed to an overdose of isobutyl quinoline or birch tar).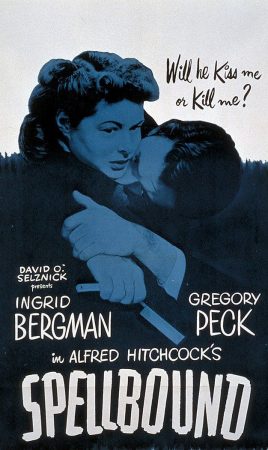 Ingrid Bergman in Spellbound 1945 via wiki, Spellbound movie poster
In contrast to more ebullient floral leather chypres such as Cabochard, Bandit or Jolie Madame, Diorling might be viewed as sedate – but don't be disarmed. It masks a seething self-possession, not unlike someone elegantly attired in a tailored tweed ensemble and strings upon strings of pearls who is sporting outrageously provocative undergarments (which are invisible to the observer's eye): one carries themselves differently. Their gait is riddled with subtext – although overtly no-nonsense and purposeful in its stride, there's a soupçon of fluidity in the hips, a barely-contained bravado which is extremely sensual, if subtle. Diorling's cavalier head toss is the key: insouciance underpins a lack of ostentation. It's Ingrid Bergman and Gregory Peck in Alfred Hitchcock's 1945 thriller Spellbound, eventually bound together for all eternity.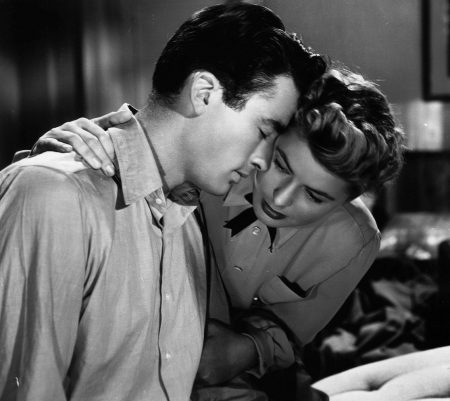 Gregory Peck and Ingrid Bergman 1945 movie still
I realize that often it's hit-or-miss when one searches for a well-preserved vintage fragrance, which is one of several reasons why many bypass the entire process. Others see vintages as outmoded, not possessing enough oomph, longevity and/or volume for their tastes – impossible as unearthing a unicorn. In the case of Vintage Christian Dior Diorling, that unicorn happens to be debonairly suave and clad in buttery-soft leather. Ask around; it's well worth finding a few drops for your olfactory edification (even if, like myself – you can't afford a full bottle). You won't regret it – and you'll never forget it. Damn that unicorn.
Notes: bergamot, bitter orange, hyacinth, nasturtium, iris, jasmine, rose, lily-of-the-valley, vetiver, musk, patchouli, oak moss, leather
Samples generously provided by Jana Menard of Fragrance Vault – I'm thoroughly indebted!  My nose is my own…
Ida Meister, Deputy and Natural Perfumery Editor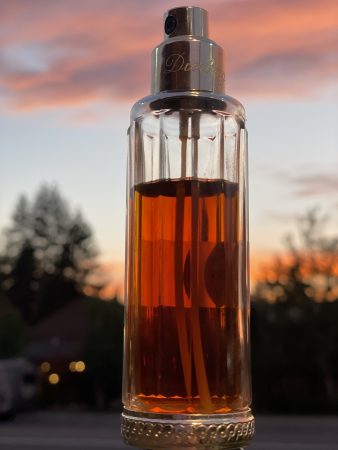 Vintage Christian Dior Diorling  photo courtesy of Jena Menard© approximately early 70s
 Thanks to the generosity of Jana Menard of Fragrance Vault, we are offering a 1 ml vial of vintage Christian Dior Diorling for one registered reader in the USA. This is very rare and worth $40 and Jana doesn't have a backup bottle! To be eligible, please leave a comment regarding what appeals to you about Ida's review and if you collect vintage perfumes. Draw closes  June 20, 2021