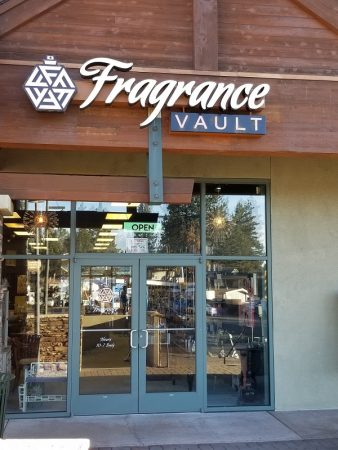 Fragrance Vault in South Lake Tahoe
This past September I finally made my first visit to the wonderous Fragrance Vault, in South Lake Tahoe, California. I had known about the shop for a couple of years but had never made the almost 4-hour drive from my home in the San Francisco Bay Area.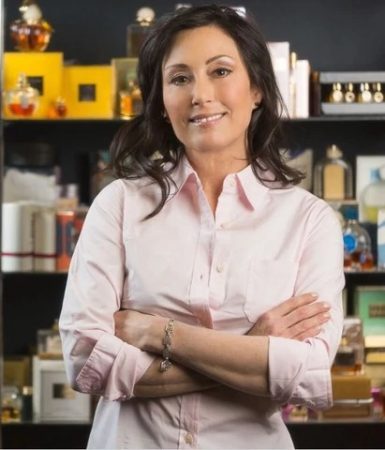 Jana Menard, owner of Fragrance Vault
I was first referred to the Fragrance Vault, and the store's founder and owner Jana Menard, back in 2018. At the time, I was solidly into a rediscovery of my personal fragrance journey – the early phase of my interest having gone into a hibernation somewhere in my late twenties. I still am not sure exactly why that part of my being went into a slumber, other than the natural ebb and flow of pursuits and passions within the currents of youth. More than two decades later, this reawakening of my olfactory sensibilities was marked by a renewed enthusiasm, fascination, and desire to delve deeply and in a more erudite way into the great universe of scent.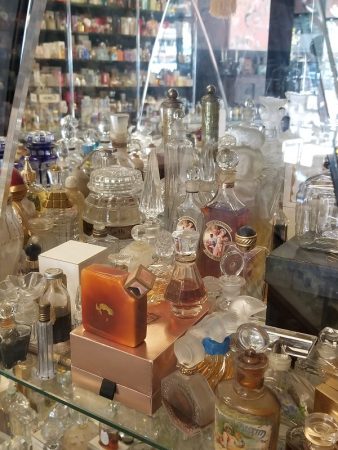 A selection of Vintage Perfumes at the Fragrance Vault
When I first learned of the Fragrance Vault, I inquired of Jana about some legendary perfumes I had been seeking out, fragrances I had read about that were out of production and hard to find. I quickly became amazed by the inventory she had and the photos of vintage gems she sent me – brand new boxes sealed in their original cellophane wrappers. It was like diving into a wishing well and discovering forgotten heirlooms that had been preserved through time – alcoves and nooks holding echoes and creative passions of eras past bottled in living olfactory art.  Over the last few years, I have ordered a number of wonderful fragrances from Jana, including vintage bottles of Caron's Le 3ème Homme, Guerlain's legendary Derby and a late 1980's Vol de Nuit Parfum (both new/sealed), as well as Dior's Eau Sauvage Parfum and Eau Sauvage Extreme, all processed with superb customer service, shipped and delivered quickly in perfect condition.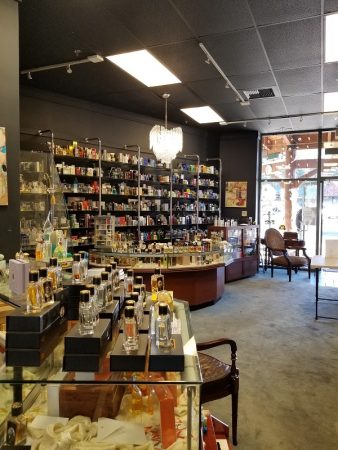 Interior of the Fragrance Vault
Jumping forward to this fall and my first and long-anticipated visit to the Fragrance Vault – walking into the shop was a revelation and an immersion. The primary experience upon entering is literally being surrounded by floor-to-ceiling shelving filled with perfume bottles arranged by brand, display cases holding glimmering rows of even more bottles as well as unopened boxes from a literal A-to-Z of perfume houses. Dramatic displays of large factices adorn many of the shop cases, providing an appropriate dose of theatric presentation and flair to the overall atmosphere.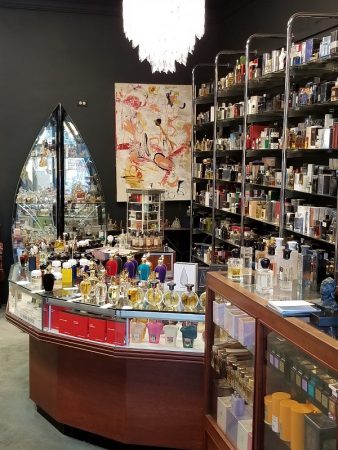 Can you spy the niche perfume brands on this display?
By virtue of the spaciousness of the store, the dense merchandising of the thousands of bottles does not feel imposing, but rather grand and awe inspiring. There is ample room to stand back and simply take in the visual feast – before diving in with one's olfactory curiosity resolutely awakened. The range of brands and selection carried by the Fragrance Vault is magnificent: Jana's inventory ranges from the vintage, classic, and rare bottles dating back to the early 20th century, to designer houses from the modern age, to current niche and artisan releases.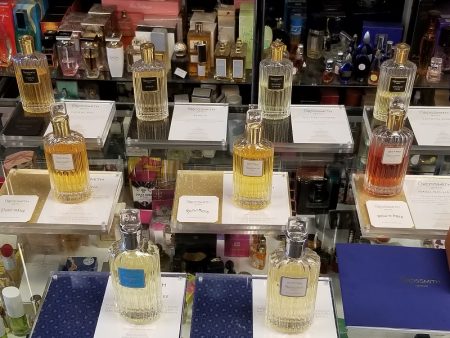 Grossmith London Display
Jana estimates her inventory at over 6,000 perfumes, and she continues to add new perfumers and brands to her offerings. She is an authorized retailer of a number of notable luxury, niche, and artisanal houses which are scarcely found in the US marketplace such as Grossmith London, De Gabor Paris, Meo Fusciuni (Italy), Agatho (Italy), Andrea Maack (Iceland) and LuVandus (USA).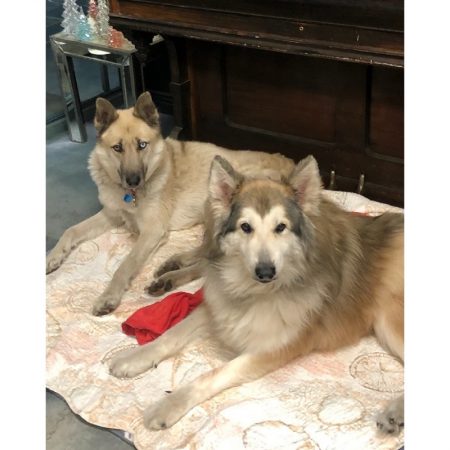 Jana doesn't pay herself a salary. Sales support her initiative to rescue and foster "wild type"  dogs  and wolves
And along the way I  learned from Jana that her fragrance sales support her nearly one-woman operation that rescues, rehabilitates, and fosters wolves (and hard-to-place northern breeds and "wild-type" dogs) that would otherwise be euthanized. I became even more enthusiastic about supporting Jana's venture, having discovered not only a fragrance shop with a large inventory ranging from modern releases to scarce vintage flacons, but also a store with a devoted mission to support wolf rescue. Jana's dedication to her shop is evidenced by her ability to juggle all the demands of an independent business with only one paid assistant employee (Jana takes no salary), while also coordinating The Lupine Canine (Facebook and Instagram) rescue efforts, fundraising, and networking for past 20 years.
The Fragrance Vault is truly a unique store, clearly dedicated to the art, beauty, and tradition of perfume and perfumers through the ages. Jana's vast knowledge along with her friendly and personable character, and excellent customer service, make her shop a must-visit destination for any fragrance lover.
–Koa Pickering, Guest Contributor and CaFleureBon reader
All photos by Koa Pickering ©
Store details:
Website: Fragrancevault.net  (including store chat feature)
Established 2014
Specializing in rare, vintage, discontinued, luxury, niche, artisanal, and designer fragrances. Offers complimentary Signature Scent consultations.
Live harp and piano music on weekends (live music suspended during Covid restrictions)
Online, phone, and email orders.
Location and Contact Information:
4000 Lake Tahoe Boulevard #26
South Lake Tahoe, CA  96150
(530) 541-3152
Email: jana@fragrancevault.net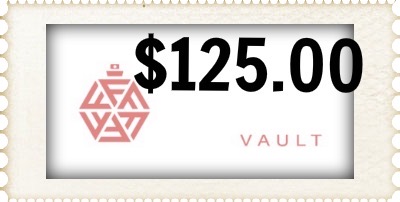 Fragrance Vault Gift Certificate
Thanks to the generosity of Jana and the team at The Fragrance Vault we have a $125 Gift certificate that can be used online a registered US reader. To be eligible please leave a comment on what you enjoyed about Koa's visit to the Fragrance Vault. Anything surprised or excited you?  What rare, vintage, designer indie or artisanal perfume would you buy with your $125.00  Draw closes 10/26/2020
Follow us on Instagram @cafleurebon @eleganceimperative @fragrance.vault
This is our Privacy and Draw Rules Policy
We announce the winners only on-site and on our Facebook page, so Like ÇaFleureBon and use our Blog feed…or your dream prize will be just spilled perfume.